It has been almost a year since the Covid-19 pandemic came to light and began surging worldwide; social distancing, self-isolation and home quarantine have become our new normal. Since some of you would be planning to travel under this circumstance for necessary reasons, here is a peek into how the compulsory quarantine would be like in Hong Kong. 
We have invited a few guests staying in a co-living space to share their experiences as they decided to come to Hong Kong. They are Ding from Beijing, studying Master of Translation and Interpretation at Hong Kong Polytechnic University; Guo from Hangzhou, studying Master of Language Studies at Hong Kong Baptist University; and Zhang from Zhejiang, studying Master of Information Engineering at the City University of Hong Kong.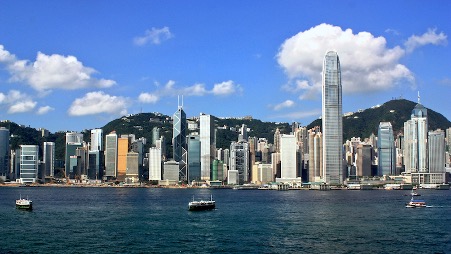 The dilemma for students – Online classes or face-to-face classes
If you are coming for your study, you have probably heard that most of the universities have launched online learning programs, if not dual-mode study programs. So it really depends on the students' decision whether or not to travel to Hong Kong. 
Our interviewee Guo admitted that she was quite struggling at first about the decision to travel to Hong Kong, yet she decided to come anyway considering the third wave of the pandemic situation has been suppressed quite efficiently. "Actually I really wish to come for the face-to-face learning as my academic major in language and communications so it involves interactions with professors and peers. And I am so glad that I did come, as face-to-face learning is so much more efficient than online learning and I enjoy the learning atmosphere a lot."
Ding agreed with Guo and added, "I myself also study a language. And my institute also arranged face-to-face classes as many as they could manage in view of the pandemic situation is calming down. Almost 70%-80% of my classmates have joined the classes in person and it was really nice to exchange ideas with them and get to know them. I believe it really enhances my learning experience."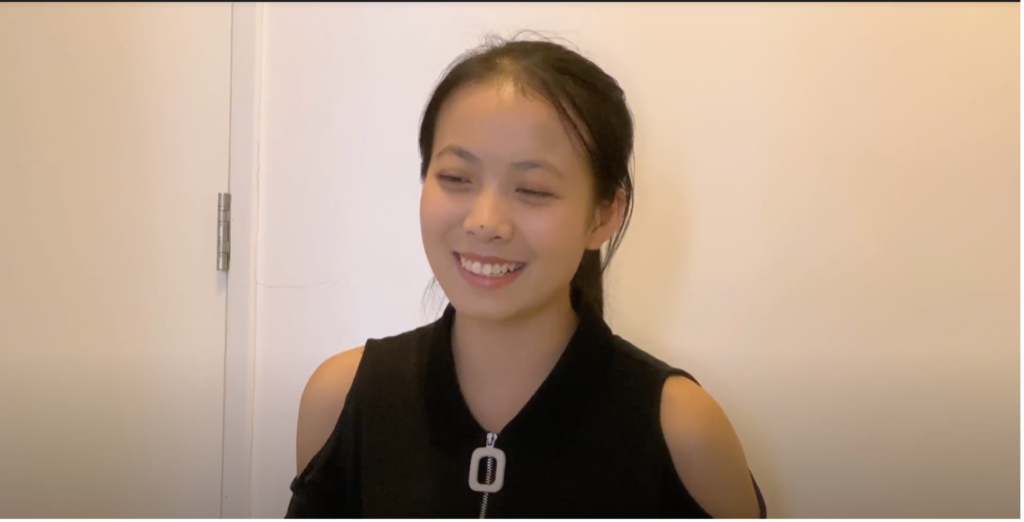 Zhang also agreed that the online program is insufficient in a certain way, "My academic major involves conducting experiments and it is just impossible to do it online," he explained, "On the other hand, most of my fellow students and I want to facilitate our study by utilizing the resources in campus whenever we could so most of us decided to come before October."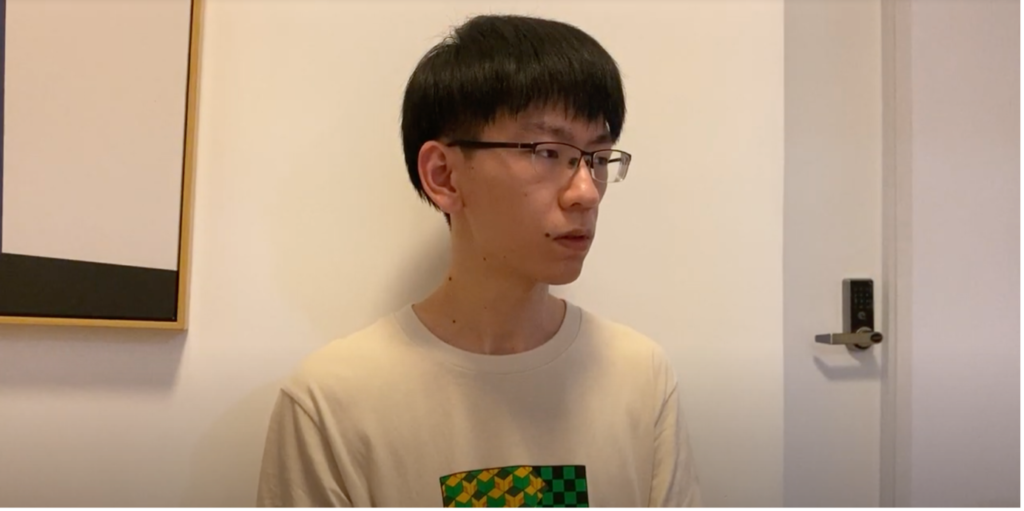 Shop around, here is the best – picking the best off-campus student hostel
After deciding to come to Hong Kong, our three interviewees had to decide on a place to settle. After some comparisons on residences available on different rental platforms, they picked the rooms managed by Contented Living.
Guo was pretty decisive in her decision to book through Contented Living, she explained, "I found this place on the HKBU's official website and I thought it is definitely more trust-worthy because it is recommended by a bunch of educational institutions as well. So it did not take me so long to make a reservation after learning about the details of the place and here I am, a happy resident!"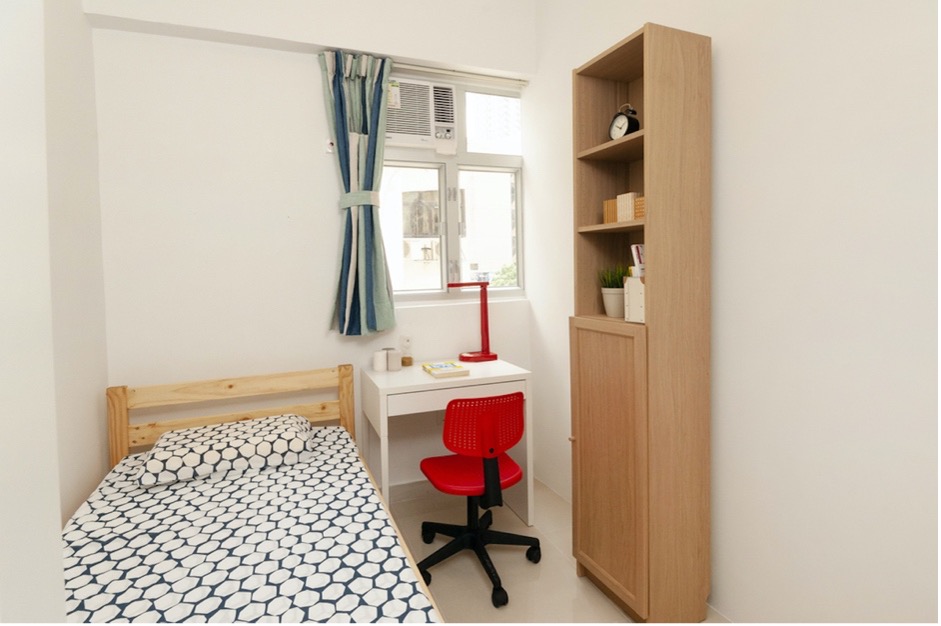 Unlike Guo, Ding has done some research about the accommodation options in Hong Kong. "I was searching on WeChat as well as some student forums, and after comparing a few residences managed by either some corporations or individual landlords, I found that Contented Living has the best reputation amongst all." She shared. "It is not just the flats look good, but also come with comprehensive provisions and reasonable prices. Furthermore, Contented Living has a great flatmates-matching system by which I am able to share the flat with those who are studying similar subjects as I do and we soon become friends."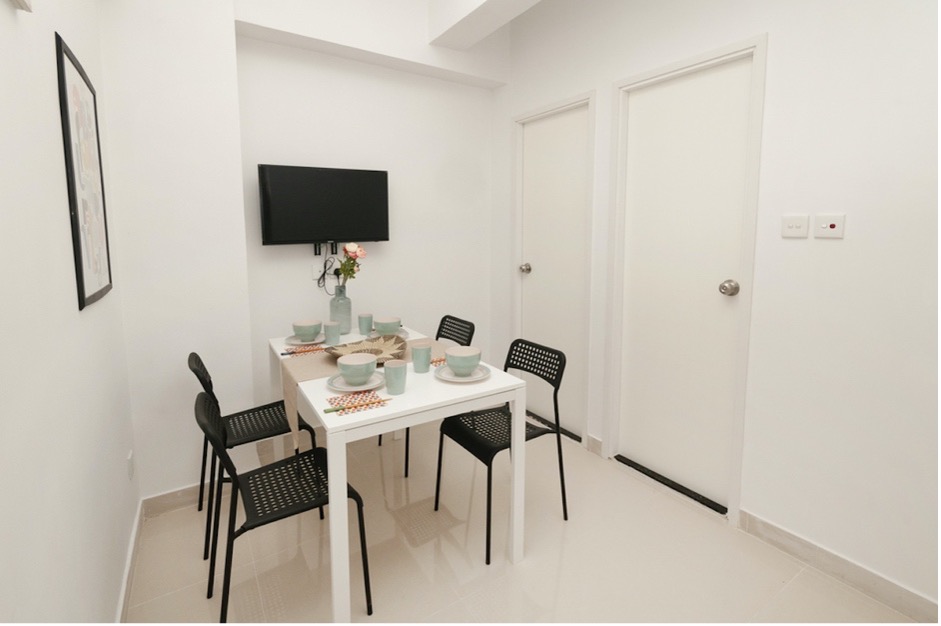 "I am actually booking my place to stay with a group of fellow students who are also studying the same subject as I do," Zhang and his peers have booked a complete flat of 5 rooms at Contented Living based on friends' recommendation, "Basically we were looking for a flat which could accommodate five of us with each of us enjoy a single room, but it is not easy to find one with good space for every room and common area; and also comes with proper management and convenient location. Luckily we got this recommendation from a senior student of our faculty and we were very satisfied with the flat."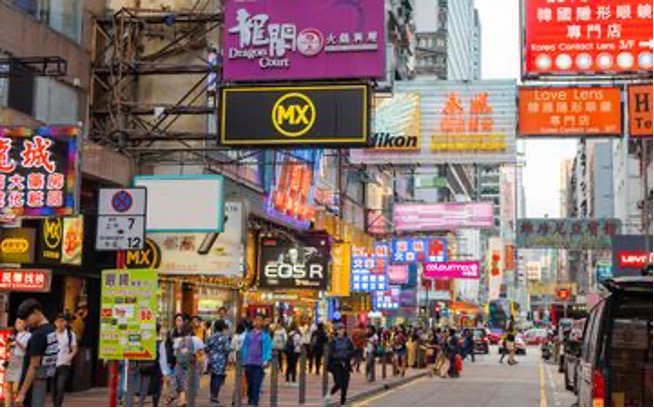 Going through the quarantine with the thoughtful service from the residence
To facilitate the guests going through their compulsory quarantine, Contented Living has prepared beddings in every room and sanitary supplies at every flat. The arrangement helps reduce the baggage burden of the guests and resolve their problem of lacking time to get the groceries needed before going into quarantine.
Our interviewees, like many of the other guests at Contented Living, checked in at the residence directly upon their arrival in Hong Kong. Though all of them have just booked their rooms online and never have really been to the place in person, they all agreed that the residence is just what they expected from the online tour and they were quite amused by the provisions and tidiness of the place.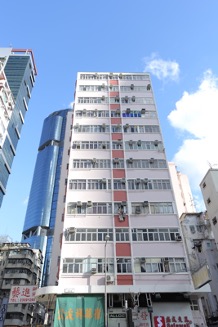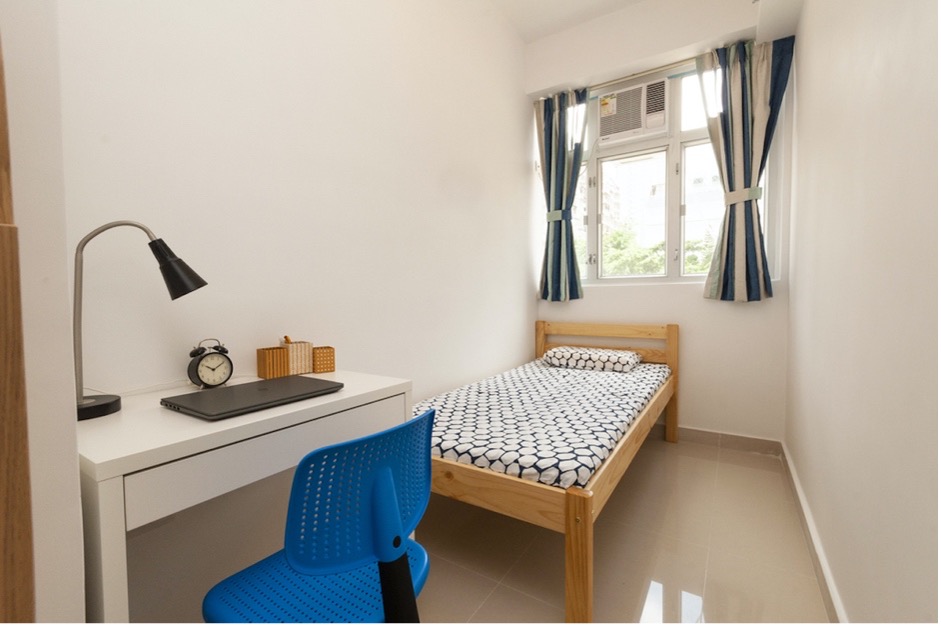 "My first impression of my place was it is really clean and fully furnished with study desk, cabinet and even the beddings and cleaning supplies. I was really impressed. The Wi-Fi network is working fine with good speed and the utilities all set up and ready which makes my life a lot easier." Guo said. "And the best part is, thanks to the flatmate matching, my flatmates and I became friends real soon and even help with each other's needs during the quarantine. We do enjoy staying together."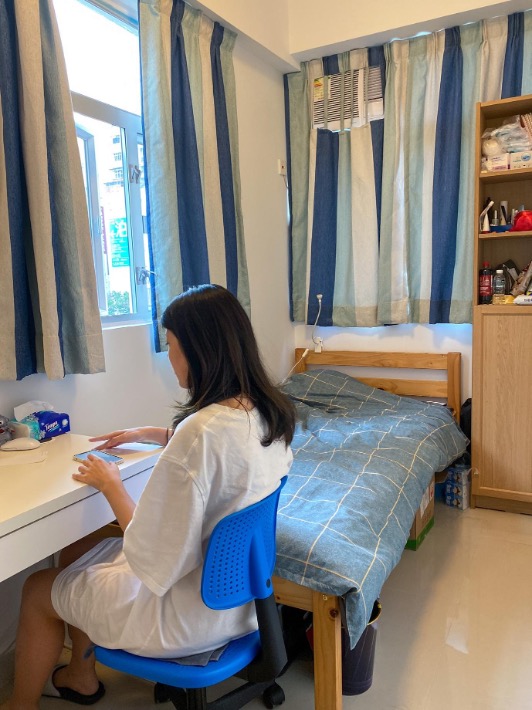 Ding was at first quite concerned about the pest control in the accommodation which could be important due to the weather in Hong Kong. "As I am aware that the weather in Hong Kong is a lot hotter and more humid from where I come from, and I am terrified of bugs and mosquitos. But to my relief, as I checked into my flat, it was just clean and tidy with no sight of bugs or mosquitoes. Phew!" Ding giggled.
"Moreover, I got well-informed about the quarantine measures and tips from Contented Living before I checked in so the process of my quarantine was pretty smooth." Ding added, "Even so, I must say I am also grateful to help from Kenneth, the property management officer. He is very responsive and helpful, especially there was a time I accidentally locked myself in the kitchen and Kenneth just "rescued" me real fast after he got my message."
Like many others, Ding likes enjoying food very much and food has cheered her days up during her quarantine. "The location of my accommodation is really convenient and I got lots of options for food delivery during my quarantine. As I heard from my fellows who have booked another accommodation in Hung Hom, they didn't even get food delivery service and they had to be fed on instant noodles during their quarantine." Ding shared, "I felt really sorry for them."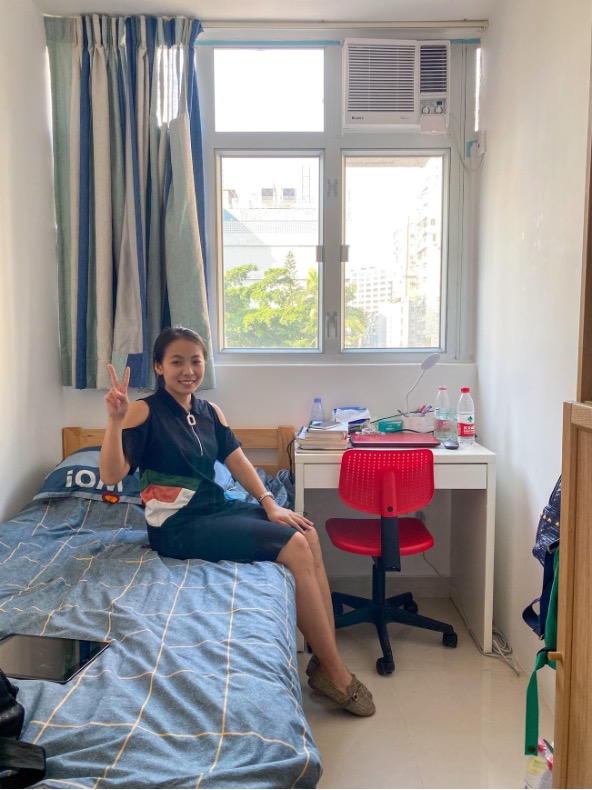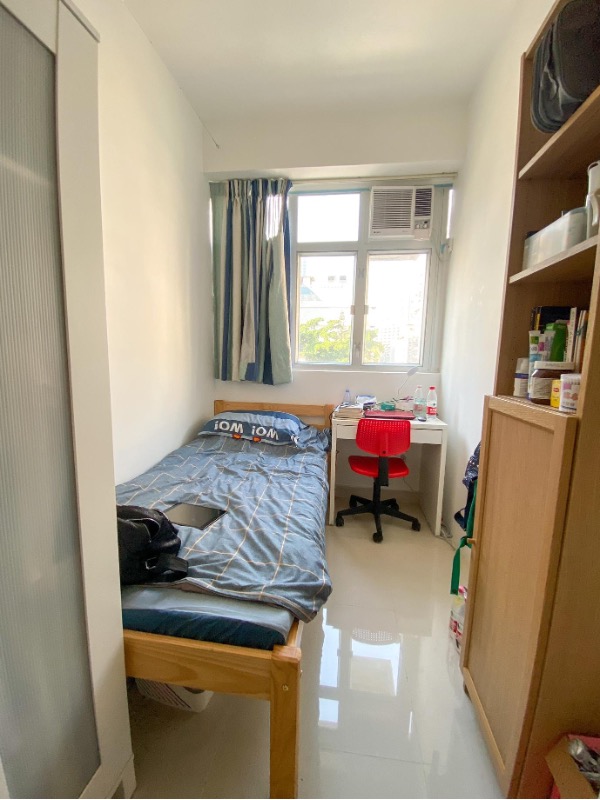 Booking the rooms together with his fellows, Zhang is the last one checked-in amongst his flatmates and he had great support from them. "I am well prepared with my quarantine experience as my guys told everything I needed to know before my arrival." Zhang said. "I think the beddings and sanitary supplies provided by Contented Living were very considerate and practical. Moreover, since the location of my residence is within the delivery service of the online order platforms so it just took me a day or two for all my necessities to be delivered at my doorstep. This reduced my baggage burden a great deal."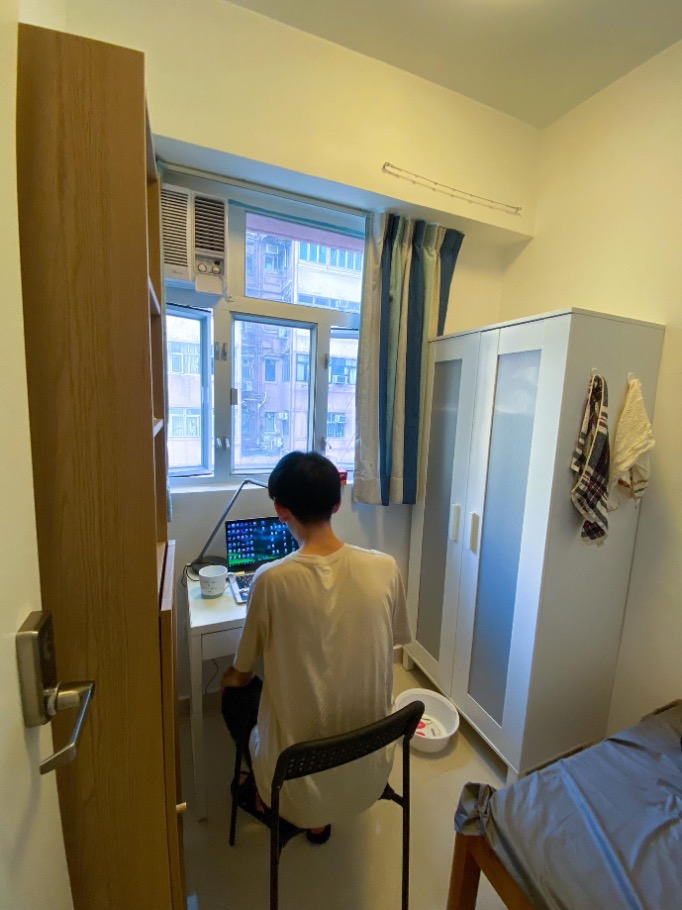 Surviving Quarantine in Hong Kong
Lastly, our interviewees have shared their two cents on how to survive the quarantine period and we have summed it up into sever key points as follows:
Food
During quarantine, you are not allowed to leave your apartment under any circumstances so it is important to prepare your shopping list and plan in advance.
There are many shops offering grocery delivery services such as ParknShop, CitySuper, or Wellcome. In addition, if you feel like wanting some special treat, you can always order food from restaurants via FoodPanda, Deliveroo, or UberEats.
Stay connected
Upon arrival in Hong Kong, it is recommended that you get a local mobile phone number with mobile data. Besides allowing you to stay connected to your family, you will need mobile data to attend classes, research for your assignments, or for entertainment purposes. It is also important to have a phone number as you are required to provide your phone number to the local authorities before entering Hong Kong. 
Keep your spirits up!
Move your body and exercise as it helps to release endorphin hormones that make us feel good. With added stress during the quarantine, self-care is very important. Make it a priority to commit 30 minutes of exercise a day.
Create a routine
Having a routine to keep your feet firmly to the ground is important because, on normal days, we organize our routine around school, work, sports, or in communities that we are active in. During quarantine, you can maintain a stable routine such as: 
Getting up or going to bed at the appropriate time.
Structure your academic time to complete your readings, focus on assignments, and connect with your peers.
Set some time for self-care such as exercising.
Plan your meals and eat on time.
According to Ding and Guo, they mentioned that passing time during quarantine was really quick. "Our daily life involves attending classes online, working on our assignments, watching dramas, and playing online games. Time flies with a blink of an eye!", said Ding and Guo. They also provided some tips for people who will arrive in Hong Kong in the near future. They recommended students who will come to Hong Kong buy a telephone card with mobile data as they are required to provide their phone numbers for immigration clearance upon entering Hong Kong. They do not advise students to use their phone numbers from the mainland as roaming services are very costly. In addition to that, a stable internet connection in the property is also very important to follow on-going online classes. It is advisable that students need to confirm with the landlord before they move in as setting up an internet connection at home might take about one to two weeks. In cases when landlords do not provide internet connection, it is recommended that students opt for an unlimited data plan on their mobile phone network so that they can attend their classes virtually without any issues. 
In summary, arrivals have to make sure that the accommodation that they have chosen complies with the home quarantine requirements stated by the government. One of our interviewees brought up a case, "My friends booked a quarantined hotel that only allows one person per room but there were two of them. Therefore, she needed to rebook a new room and the whole process was frustrating and cost her extra money." On the other hand, it is a requirement that new arrivals have to get into quarantine within 2 hours upon passing through the immigration clearance. Therefore, do familiarise yourselves with the supermarkets, restaurants, transportations, and shops around your accommodation so you would know where to go and what to buy before going into quarantine. Last but not least, as all the interviewees shared, do consider downloading food delivery and online grocery shopping apps before traveling to Hong Kong as they might be "life-saving" during your quarantine.