Introduction
499 Shanghai Street is half of a tenement building situated in the heart of Mongkok. It contains a rooftop, 4 storeys of residences and 1 storey of common room. It has been newly renovated in 2018 with new furniture and appliances plus 200M of broadband internet per storey. A password-accessed front gate and security cameras connected to a security company are installed at the building. It is around 2 mins walk to the famous Langham Place shopping centre and around 3 mins walk to the nearby wet market. It is also within 10mins walk to the famous sneakers street and ladies street. You can also find a wide network of banks, supermarkets and other necessities around easier. As one of the transportation hubs in Hong Kong, you can easily take public transportation to almost every areas of Hong Kong round the clock at Mongkok. The Mongkok East MTR station, which will take you to PolyU, is around 15mins on foot, while Mongkok MTR station, which is on route to City University and Baptist Universit, is just 4mins away.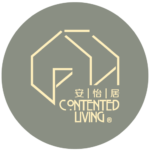 This residence is managed by Contended Living
Tenants
Students from The Polytechnic University of Hong Kong, The Chinese University of Hong Kong, The City University of Hong Kong, The Baptist University of Hong Kong and The Open University of Hong Kong. Gender: Female and Male Tenancy Term: From mid-August 2021 to mid-August 2022
Facilities
Flat Manager – Contented Living
This location is an 5-storey building built in 1969 with no elevator. It is equipped with security gate and security cameras. Garbage left by residents is collected everyday (except for some public holidays). There are four single rooms in each of the unit, with a toilet to share.
This mansion has been refurbished in 2018 with brand new furniture and electric appliances. The furniture comes from IKEA and other local suppliers, including wardrobes, desks, chairs and bookshelves. Beds and mattresses are Seahorse Brand. 200M Broadband Internet access offered by HKT (PCCW Netvigator) is available.
A common room with cooking and clothes washing facilities is situated on 1/F with opening hours from 9am – 10pm, with the electricity (except for fridges) to be cut after the opening hours. All cooking and clothes washing facilities are situated in this room, with clothes drying facilities on 1/F and rooftop.
Every Standard Single Room (2-5/F) is equipped with the following:
A 3-feet single bed and mattress
A desk and bookshelf
A chair
A wardrobe
Air conditioner
Curtains

Every Unit (2-5/F) is equipped with the following shared facilities
A toilet
Wireless broadband internet access
Other common facilities on 1/F Common Room (Opening hours: 9am-12pm)
A toilet
2 washing machines
2 refrigerators
A television
IC cooker and microwave
Basic kitchenware
Wireless broadband internet access
Daily cleaning service for 1/F common room (excluding dishes and cooking utensils), and weekly cleaning service for 2-5/F common area, is included in rent.
Floorplan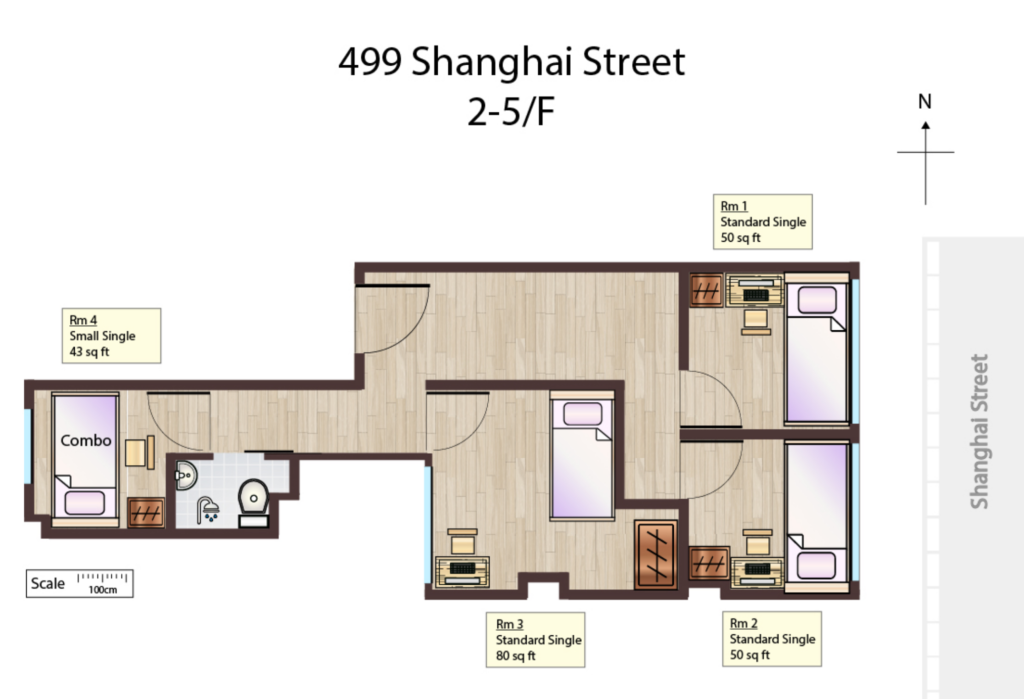 Payment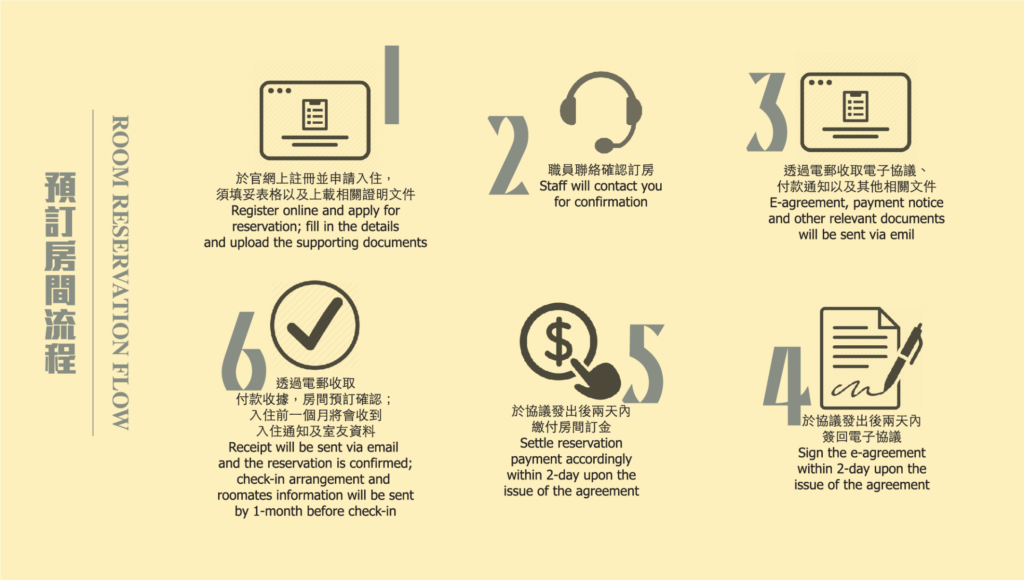 The room is really tidy and modern in style. It is just that the air conditioner is a bit odd, other than that I am very satisfied with the overall condition.
Responsive for maintenance request, well furnished apartment, high value to money. It is also helpful to have fellows student living together