Contented Living x GoGoVan HK$20 Discount on the First Ride of Delivery Van Service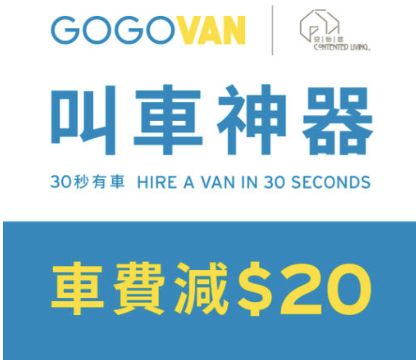 During these time of the year, guess many of you would be really busy on packing things either to getting on with your home return trip, coming over Hong Kong and start the year of adventure here, relocating to different places or travelling to other countries for fun, yet, no matter what you are up to, it seems to be unavoidable that you will be moving your luggage around with you.
Contented Living is caring enough for you, and we would very much want you to be hassle-free to start on your trip, so for the very first time, we partner with GoGoVan to offer service for you, you just have to sit at your home and place the order on your mobile, your van will then come shortly to pick you up with your heavy luggage and drive you to your destination right away! And we are very pleased to tell you that GoGoVan would offer an exclusive discount to our guests, just input the promotion code "TRY20" when you place your order, you will enjoy an HK$20 discount on your first ride, which makes it more budget-wise than taking a taxi.
The most amazing thing is, you may still have to worry about the taxi charging going very high when there is heavy road traffic, GoGoVan can ensure you that the charges would remain as the quoted amount regardless of the road condition!